Welcome to

Welcome to our wiki, and thank you for your contributions! There's a lot to do around here, so I hope you'll stay with us and make many more improvements.
Recent changes is a great first stop, because you can see what pages other people have been editing, and where you can help.
Questions? You can ask at the Help desk or on the "discussion" page associated with each article, or post a message on my talk page!
Need help? The Community Portal has an outline of the site, and pages to help you learn how to edit.
Please sign in every time you edit, so that we can recognise you!
I'm really happy to have you here, and look forward to working with you!

Maverick 07:08, 7 January 2009 (UTC)
* = coming soon
What's new on Battlefleet Gothic Wiki
WATCH THIS SPACE
Featured Article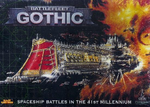 Battlefleet Gothic is a tabletop miniatures game based in Games Workshop's fictional Warhammer 40,000 universe, and is sold by Games Workshop. Battlefleet Gothic is a starship combat game, and focuses around the incursion of the "Gothic Sector" by fleets under the command of Abaddon the Despoiler, and the subsequent campaign by the Imperium to restore order, also known in the mythos as the Gothic War. Battlefleet Gothic is also the Imperial Naval formation after which the game is named and which is a major protagonist in much of the supporting fiction. more..
Featured Media
WARHAMMER 40K Campaign 2008 BFG
Battlefleet Gothic Oponent Finder Map Registration required.
Battlefleet Gothic PodCast Radio.
BFG Link Hub
Disclaimer
This website is completely unofficial and in no way endorsed by Games Workshop Limited. It is intended for the use by fans of the game. Battlefleet Gothic is a trademark of Games Workshop Limited. Used without permission. No challenge to their status is intended. All other content within this site is copy written by their respective authors. Used with permission.
Warhammer 40K & Warhammer Wikia
Community content is available under
CC-BY-SA
unless otherwise noted.